The only fair way to do Fairtrade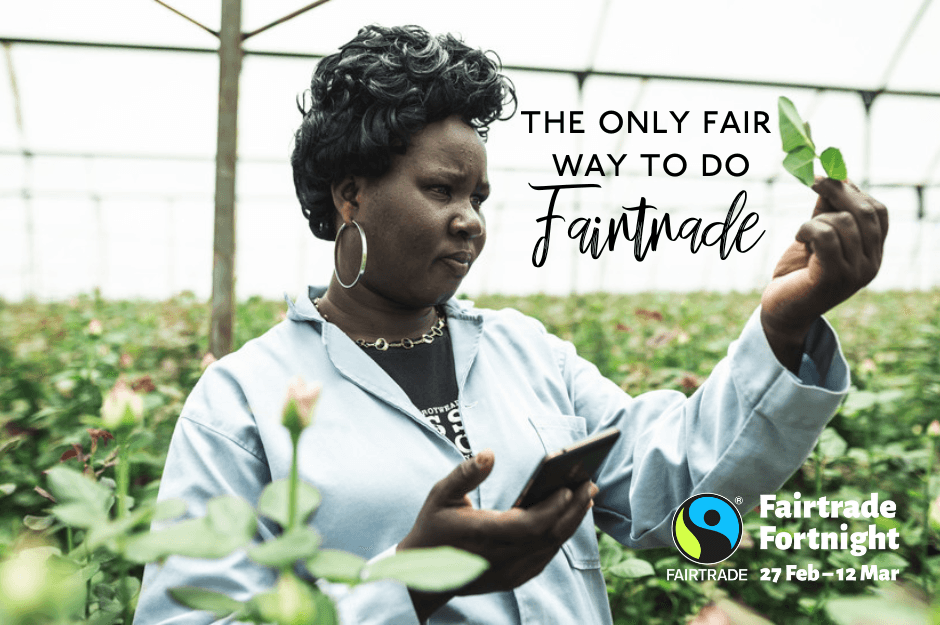 Since its inception in 1992, the Fairtrade foundation and its mark have become synonymous with better. Better products, better working conditions, better standards.
The foundation sets clear social, economic and environmental expectations of what cooperatives, businesses and farmers should be doing, and in return they receive not just Fairtrade accreditation, but the support of the Foundation and connection with similarly minded businesses ready to buy their products.
It's this high quality and calibre that makes being Fairtrade accredited an aspiration of producers and suppliers across the world. 
When looking to provide the best possible quality flowers, we knew from the get-go that working with Fairtrade accredited growers was the only logical option for us when purchasing stems from Kenya - the largest grower and exporter of roses globally. You expect a high standard of us, and part of that means buying Fairtrade.
The Fairtrade Foundation has been instrumental in us forming deep and strong connections with accredited growers in Kenya, and understanding exactly what it means to buy from them. 
What may come as a surprise, and is less well known about Fairtrade items, is that there are two price points for those looking to purchase from accredited growers. The first and cheaper option enables businesses to buy Fairtrade but without providing any real benefit to the farm. At this base cost, the growers cannot fund initiatives that support workers, improve conditions or contribute to helping the environment. Any Fairtrade product bought without the premium being paid also cannot be marketed as Fairtrade either, and rightly so.
The second option is to pay the Fairtrade Premium. This comes as an extra cost to the buyer obviously, but when looking to run your business as ethically as possible, it's really the only way to do so. The 10% Premium directly funds education and training, improves working conditions, supports workers rights and more. In return, purchasing businesses can label certain products as Fairtrade, as long as they meet the correct criteria. Many businesses that purchase from accredited farms will often forgo paying the Premium because they're not marketing their product as Fairtrade. This is problematic as businesses are directly impacting the quality of others' lives through not paying up.
Last year, the Fairtrade Foundation provided leadership training to nearly 100 flower farm workers in Kenya, funded by the Fairtrade Premium. This training was designed to help workers transform their thinking, improve their outlook and pursue income-generating activities to supplement their income from the farms, and they were each given a small but impactful business grant.
Taryn Campbell, Head of Programmes and Partnerships at the Fairtrade Foundation, said: "The flower sector is an industry where workers tend to receive low wages – particularly those without the safety nets that Fairtrade offers – while communities often suffer chronic food insecurity and poor quality of water and sanitation. They face many obstacles when it comes to generating enough income to provide for their families' daily needs and plan for the future.
"However, thanks to Fairtrade Premium funds, the flower workers who took part in the project have been able to unlock their own potential, increase their earning prospects and help their communities take an important step towards building their resilience in times of crisis."
The benefits of paying the Premium are pretty hard to ignore, aren't they? Yet there are businesses out there who aren't doing it. Arena Flowers is the only UK-wide florist that is committed to always paying the premium, regardless of how we market our products. That's why you can be confident in roses from Arena Flowers, because while we don't always shout about what we're doing, we're doing the work and paying what is fair for everyone.
If that still hasn't convinced you to always seek Fairtrade flowers then this report released on 13th February from the Foundation goes in to more detail, and we really love this blog from Mahsa Yeganeh, Supply Chain and Programme Manager at Fairtrade Foundation, goes into detail about how you're helping the environment when you buy Fairtrade flowers from us.