Our commitment to Fairtrade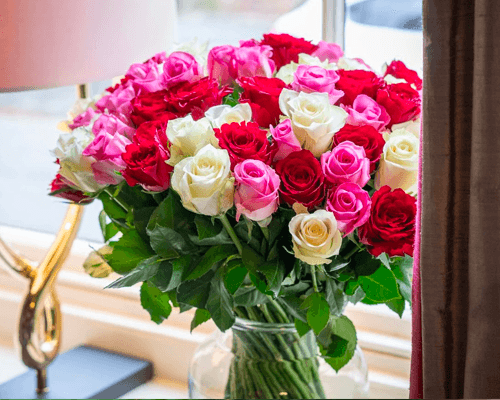 If you use Arenaflowers.com, or if you're a regular visitor to our site, then you'll know that we're the most ethical flower company in the UK. You'll also know that we plant a tree every time you order from us and that (in addition) we're donating £1 to Crisis for every bouquet sold this winter.
You may not know that we're the leading independent supporter of Fairtrade in the UK. We've always been committed to making a positive impact on the communities we touch and have found that our partnership with Fairtrade is the most effective way to guarantee this happens in Kenya, where a large number of our roses are grown. 
We've created and sold Fairtrade bouquets for more than a decade, but this month we're pleased to announce that we've become the first UK florist to commit to exclusively use Fairtrade roses in every bouquet we can. This means that any bouquet which our florists create with Kenyan roses will automatically include the additional contribution toward the Fairtrade fund at our Fairtrade farms. We already generate thousands of pounds in annual contributions but the widening of our commitment to Fairtrade will significantly increase the annual value of benefit we're able to provide.
Anna Barker, Senior Supply Chain & Programmes Manager at The Fairtrade Foundation said:
'I am absolutely delighted that Arena are making this commitment to Fairtrade flowers, and will be the first independent British business to source all their roses as Fairtrade and only the second business in the UK to do so. When we choose a bunch of Fairtrade flowers in the UK, the workers behind them are benefiting from safe working conditions and families are able to send their children to school and access healthcare.'
The great news is that we aren't changing our prices. Our customers will still access the UK's freshest products, professionally made by our florists & wrapped in our eco-friendly packaging with no single-use plastics anywhere to be seen all backed up by our commitment to industry-leading customer service.
When you send flowers with Arenaflowers.com you're helping us to make a difference to communities and environments across the planet.
Fresher, Fairer Flowers from Arenaflowers.com - The Ethical Florist
Please visit our Fairtrade flowers collection to send a smile with beautiful, ethically sourced, feel-good flowers.