How To Make A Flower Mason Jar Arrangement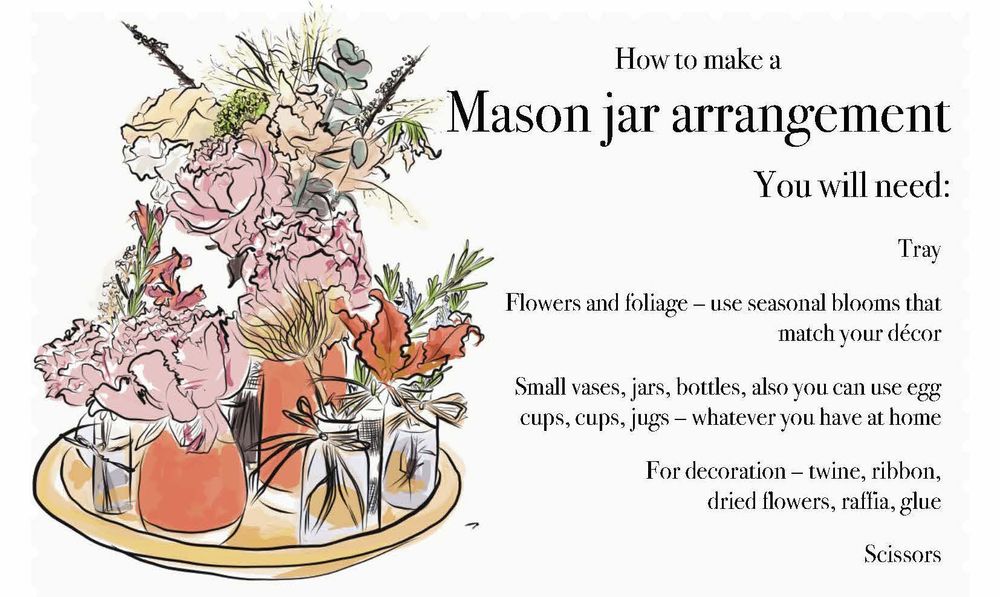 What you will need:
You better go grab all the Mason jars, bottles and small vases you can find because you're going to want to make this pretty display for all your summer parties, family gatherings, and outdoor weddings.
Tray

Small vases, jars, bottles, also you can use egg cups, cups, jugs – whatever you have at home.

For decoration – twine, ribbon, dried flowers, raffia, glue.

Scissors

Flowers and foliage – use any blooms to match your décor.
How to make a Mason Jar flower arrangement step by step:
Step 1: Choose your containers and tray
Gather all your jars, small vases, jugs, bottles if you want you can add egg cups or cups. Try to get a variety of sizes and heights. Make sure they are all washed and clean.
Step 2: Decorate your jars
Measure around the thickest part of your Mason jar. Using fabric scissors, cut the fabric in a strip about 1 inch (2.5 cm) longer than the circumference of your Mason jar to ensure the fabric wraps all the way around. Use a hot glue gun or organic glue to apply glue to secure the fabric. If you want to cover more of your Mason jar, cut the fabric wider to suit your taste. If you want more of the jar to show, cut the strip of fabric thinner. You can also use twine or ribbon to adhere the burlap to your Mason jar. To do this, cut a piece of twine or string about twice as long as the circumference of the jar. Wrap the burlap around the Mason jar, followed by the twine or string on top of the fabric in the middle. Secure with a knot or bow.
Also, you can just wrap with string, ribbon, or twine for a quick and easy Mason jar decoration.  Cut your string, ribbon, or twine approximately twice as long as the circumference you measured. Wrap around the jar and secure tightly with a decorative knot or bow and add dried lavender.
Step 3: Arrange your jars, vases on the tray
Start arranging all your jars, small vases or little bottles on the tray. Place tall bottles or vases at the back and smaller ones at the front.
Step 4: Add Water
Fill all your containers with water.
Step 5: Choose your flowers
Start by choosing your flowers – for this arrangement the best are seasonal flowers. Choose your favourites, cut off any foliage that will be underwater and cut your stems at an angle.
Step 6: Arrange your flowers
Start to arrange your flowers in the jars or vases, don't be afraid to use single stems. You also can add some herbs from your garden.
Step 7: Decorate your table
Clean the tray in case you have any water spillage and place on your table. Enjoy!