Generous Brits: The UK's Gifting Survey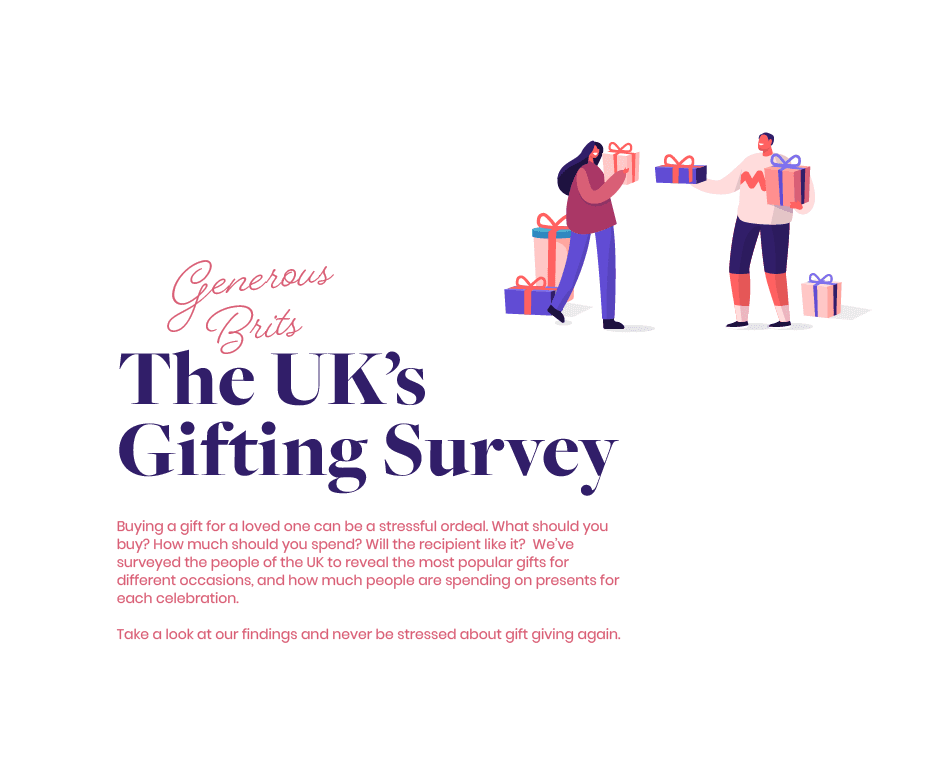 Buying a gift for a loved one can be a stressful ordeal. What should you buy? How much should you spend? Will the recipient like it?


Which cities are the most generous when it comes to gift giving? 
Take a look at the map to discover which cities spend the most, on average, on a gift for a loved one.
The results show that London has emerged as the most generous gift-giving city in the UK. However, when looking at the amount spent in comparison to the average weekly wage, Londoners are near the bottom of the list with people only prepared to pay around 2.8% of their weekly wage on a gift.
When it comes to who's spending the most on gifting in UK regions, the South East comes in second place (following Greater London) spending on average £18.59 per gift. Those from Yorkshire and the Humber have been revealed to spend the least on gifts for loved ones. However, residents of the North West are prepared to spend the most on gifts in comparison to their weekly wage, using between 2.9% and 3.5% of their hard earned money. 
The most popular gifts for every occasion
Take a look at the graphic below to find out the most popular gift for every occasion, from birthdays to anniversaries, as well as how much people are spending on average per gift.
Flowers have been revealed as the most popular gift for 9 out of the 16 occasions analysed as you can see in the infographic above. Flowers are a perfect fit for a real mix of occasions - whether that's showing joy, sympathy or just that you're thinking of someone. Receiving a fresh bunch of flowers can lift everyone's mood - whether you're male or female, as the next graphic shows.
Men like flowers too
Who is to say that flowers are a gift exclusively for women?
Perhaps surprisingly (as traditionally flowers have been given to women), our survey has found that just over 16% of men would like to be on the receiving end of a fresh bouquet of flowers. Perhaps it's time to start thinking about the men in your life when browsing the bouquets, especially as it was also revealed that around 32% of men have never received flowers as a gift, in comparison to just 6.85% of women.
Regifting Brits
Take a look below to see how many of us regift and the most popular item.
As you can see in the infographic above, 40% of the population has regifted a present before. Wine emerged as the most regifted item with 48% of people admitting they'd passed on a bottle they'd previously been gifted. Flowers are the least regifted items compared to stationery, books and food, however the results still show that over a third of people have regifted a bouquet of blooms, showing that us Brits are a thrifty bunch.
Methodology: The research was conducted by Censuswide, with 2005 UK respondents 28.02.2020 - 02.03.2020. Censuswide abide by and employ members of the Market Research Society which is based on the ESOMAR principles. Full data is available on request.