New collaboration with Natural History Museum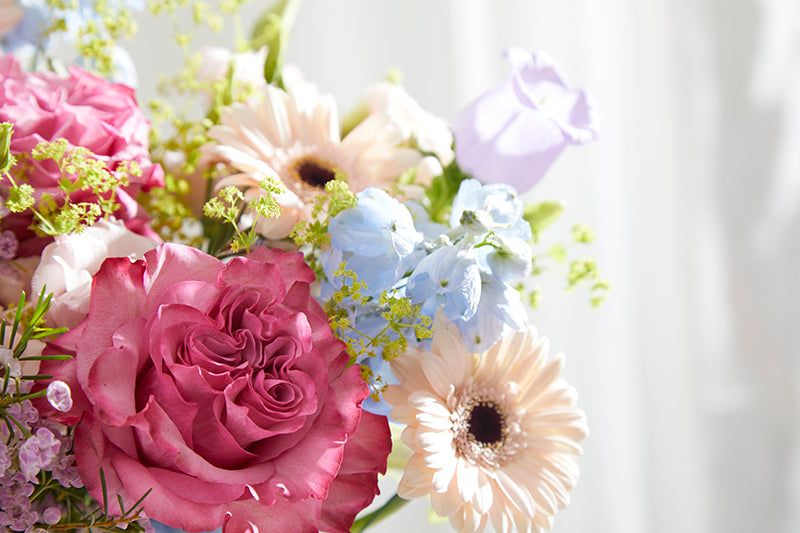 We've collaborated with the Natural History Museum to create a brand new bouquet inspired by gemstones. 
The Gemmae bouquet, named for the Latin word meaning both gems and buds, uses seven unique and beautiful types of flowers, each mirroring one of seven gems held in the Natural History Museum's collection of around 5,000 gemstones.
Mineral crystals such as the vibrant pink tourmaline and water-like aquamarine are mirrored by exquisite flowers sourced from ethical and FairTrade growers, like the 'Country Blues' rose and delphiniums.
The Natural History Museum's collection of artworks by mineralogist François Louis Swebach Desfontaines also influenced the creation of the bouquet, thanks to their detail and gorgeous colour, some of which were created using shavings from minerals.
The collaboration has brought together two organisations which share similar values when it comes to the environment and sustainability. Asta Foufas, head of product development here at Arena Flowers, says it's been a fascinating piece of work:
"This is a really exciting collaboration between Arena Flowers and the Natural History Museum. The values of protecting and preserving the planet, and limiting our impact on it, are at the very heart of both organisations. We've been hugely inspired by the Museum's stunning collection of minerals, and it's been a joy to replicate some of these in a bouquet."
Maxine Lister, Head of Licensing, Natural History Museum, says:
"We are delighted to be working with the team at Arena Flowers, who ensure that sustainability is at the heart of everything they do. It has been a real pleasure exploring the Museum's stunning mineral collection to bring this idea to life."
The bouquet can be ordered now.