History of Floristry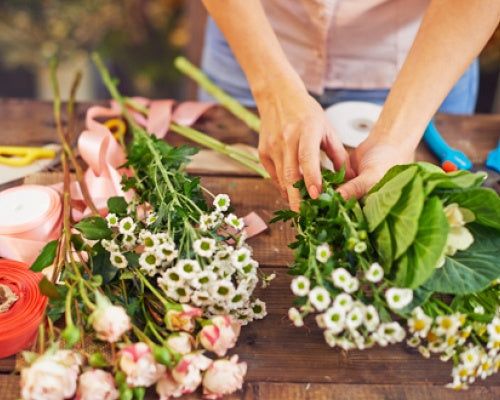 1. An Introduction to Floristry
Floristry has become a huge industry not just in the UK, but around the world. Floristry is no longer just a hobby, but an occupation too. Consider how many flower bouquets are purchased on special occasions throughout the year; birthdays, anniversaries, Valentine's Day, Mother's Day and more.
In fact, the floristry industry is believed to be worth a staggering £1.5bn and if you want a slice of the action, this resource has been created to provide an overview of the industry as a whole. With over 7,000 floristry businesses countrywide and bouquets available online, you can now offer national delivery and open your business to customers all over the UK and indeed the world.
What is floristry?
The profession of floristry concerns a number of aspects when it comes to flowers and floral displays. Floristry starts with the appropriate care and handling of flowers, through to the art of creating impressive and breath-taking floral displays for customers and events.
Floristry's main driving force is the floral industry, which of course includes the cultivation and selling of flowers, either separately or as part of a larger and more expensive bouquet. There are two types of florist to consider, the wholesaler and retailer. Wholesalers will sell in bulk to retailers, who in turn care for the flowers and produce arrangements to sell to consumers.
The floristry professional is one that requires a large amount of skill and expertise to be successful in. Not only will florists need an eye for design but also the ability to care for and preserve flowers from all over the globe, whilst handling the sales and marketing side of the business too. Colour and symbolism also play a huge role in the life of a florist and experienced professionals will have the knowledge of what certain colours mean, the ideal styles of design and which floral displays are better for certain public holidays or gift giving.
An Insight into the Floristry Profession
Florists have the experience and knowhow to create a whole range of floral displays to cater for any occasion. Their skills and expertise should allow them to form arrangements for wreaths, bouquets, vases and large centrepieces. In a non-commercial aspect, florists can also fill rooms and outdoor areas for competitions and flower shows. Of course, these could also be appropriate for large weddings and events.
There are specialist designs and floral formations florists can choose to use, whilst others will have their own patterns to rely on. Of course, offering a bespoke display to customers can be a great USP and will also earn more for the florist.
As mentioned above though, florists aren't only responsible for the creation of bouquets and other floral arrangements for the commercial side. Elaborate floral displays can be crafted for events and showpieces, that'll in turn boost the florist's reputation and help drive more business.
For whatever capacity the florist is working though, they'll need to responsibly care for all flowers. To be proficient in plant care the florists will use their years of knowledge and expertise, especially when dealing with large volume and a range of species.
Of course, florists will choose flowers which offer a long lasting appeal to customers, whilst maintaining their beauty.
There's no denying either that floristry is a difficult profession. Florists will be required to work long shifts and be available at weekends, Bank Holidays and even key dates such as Valentine's Day and Mother's Day, when sales can expect to be at their highest. To source the finest products, you'll also need to buy regularly. This involves visiting a flower market in the early hours.
The day-to-day lifestyle will likely include putting together custom bouquets and pre-ordered customer requirements, whilst meeting deadlines. Not only this, but you'll also need to arrange delivery, transportation and care for all flowers. If you've a shop, it's important to keep this looking its best throughout opening hours, whilst managing all stock to ensure always having everything you need.
Styles of floristry
Floristry styles differ throughout the world and of course, much is down to interpretation and creating bespoke displays. However, florists must also be accustomed to the three main styles; Ikebana, English Garden and modern/contemporary.
Each has its own unique appeal and you can find out a little more on the individual styles below:
Ikebana

This floral style originates from Japan and is famous for its simplicity. Part of its origin is concerned with developing a closeness with nature and the arrangement is often viewed as an art discipline. In fact, Ikebana is often seen as an equal to paintings and sculptures. This floral style is admired worldwide, stretching out past Asia and is very popular in the UK.
English Garden

From the name you'd hazard a guess the floral display will be traditionally English. These types of floral arrangements often feature seasonal flowers and foliage, with taller vase displays typical. It's common for traditional garden flowers to be used as well, including roses, gardenia, camellia, delphinium and peonies
Modern/Contemporary

Modern floral arrangements tend to use linear designs and often lack symmetry to create the final appeal. In essence, it's the polar opposite to what you would expect from an English Garden design, with experimental colours and textures typical to create a bespoke look. Common flowers used in a contemporary design include Orchids, Bird of Paradise and Protea.
2. The History of Floristry
According to experts, there are some 270,000 species of flower around the world. Of course, this doesn't include those which have now become extinct. Although scientists continue to study flowers and their origins, they're still unable to answer why there is such a diverse range and whether there has been much in the way of evolution over the years.
What we do know though, is flowers – or their early ancestors at least – have been around for a very long time. In fact, plants resembling fossilised magnolias have been discovered that backdate some 93 million years. Even more recently, herb-like fossils have been uncovered, believed to be at least 120 million years old.
However, we do know some of the floral timeline – especially when it comes to our own ancestors. In this section you'll discover a little more of the history and traditions of floristry, from ancient civilisations through to modern day.
Floristry in Ancient Egypt, Rome & Greece
Ancient Egypt (2800 BC to 28 B.C.)
In Ancient Egypt, flowers had a very traditional feel. They were often used for events, temple offerings and decoration. Some of the popular flowers used in this time include narcissus, jasmine, poppies, roses and water lilies. Of course, the ancient Egyptians are famed for their design work and floral displays were no different. Typical styles were often simple, with pattern repetition used. It was also commonplace to make use of foliage and fruit to liven up a floral display.

Ancient Greece (600-150 B.C.)
During the Greek period of more than 2,000 years ago, floristry often took the form of decoration. This could be for homes, wreaths or even clothes. Herbs were often included to improve the display. In terms of floristry formations, the Greeks opted for triangular designs and were keen to ensure symmetry amongst their arrangements. It was also common for a floral display to only have one or very few colours. White in particular, as a symbol of purity, was very popular. Flowers of the time include roses, hyacinths, lilies and violets.
Ancient Rome (28 -B.C.-325 A.D.)
The Romans took over from where the Greeks left off and used floral displays for decoration. They enjoyed extravagant styles and even began to arrange floral displays in baskets. It was common for flowers to be used on garments and in wreaths and crowns, especially for those in a position of power. At this time, flowers also started to be used for their fragrance.
French & American Floristry
French floral history (Baroque, Rococo, Louis XV1 and Empire)
Baroque is a term used to describe French architecture between 1610 and 1774.

During this time, floral displays and arrangements became popular in Europe, with symmetrical designs and no real focal point. Floristry shifted towards fragile and delicate arrangements.

Floral exhibits then had a formal emphasis by the time the Rococo period rolled around, with arc and crescent shapes popular. Following from the French revolution and during the time of Louis XVI, delicate and cool colours were popular, before military symbolism overtook this in the Empire period. These were typically triangular and simple in design.

American Floral History (1600s – 1800s)
During the colonial stage of America, flowers were often planted for food and medicinal purposes. Any flower decoration in the slightest was simple and used in the home.
These typically took a similar appeal to English Georgian and French Empire periods. It was only once colonies had settled in America that floristry began to take off. The art of floristry was first introduced to Virginia and Maryland, with bouquets including flowers such as roses, lilies, daisies, dianthus and snapdragons.
Floral design became a significant part of America between 1780 and 1820 and European styles had a huge impact on floral decorations over this time. In particular, the Victorian period had a big influence on American floristry in the 1800s, with cool colours and white popular. It was commonplace for floral arrangements to feature purples, magentas and blues.
Georgian floral history (1700s – 1819)
During the Georgian period, floral arrangements weren't just used for their aesthetic appeal, but also their fragrance. In fact, there were often times when the design aspect was disregarded entirely, with little care taken for their presentation.
This design aspect was only factored into the equation during the latter stages of the Georgian period, when containers were shaped and developed to hold stems at particular angles. Of course, it was during the Georgian period that the rose became a countrywide favourite and this was therefore used in abundance.
Victorian floral history (1820-1901)
During the Victorian period, the British Empire had significant influence worldwide, especially in arts such as architecture, clothing and home furnishings. Throughout the 1800s floral designs edged towards a lavish display, with silver and porcelain vases used to hold arrangements.
Floral displays were either circular or triangular, with roses commonplace. Other flowers used include dahlias, fuchsias, tulips and lilies. It was only in this time that the first rules of flower arranging began to take shape.
3. Modern Day Floristry
Flower arrangement and cultivation continued to develop into the 20th Century, with displays used for homes and as a way of present giving. This of course leads us into the 21st Century, where the floral industry has taken off and is now worth billions of pounds.


Technological advancements
As with many other industries, floristry has likewise been revolutionised by the advancement of technology. Of course, not only are we in a new era for marketing and selling flowers around the country and the world, but technology will continue to develop – rather than standing still.

Of course, technology is changing consumer behaviour and to be a successful florist you'll need to adapt and come to grips with the best ways of shaping your company. Business models that may have served you well in the past, could no longer be applicable.

So, how exactly is technology having an influence on the floristry industry?


A shortened supply chain

With the rise of the Internet, you now have access to customers all over the world and no longer have to deal with a large number of middlemen. For floristry, distance isn't a problem and shipping can commence on the very same day an order is placed.
Reducing cost to the consumer

If you're reducing the cost a consumer must pay, you'll only increase sales. This is exactly what advanced technology offers. In fact, to be competitive in such a popular industry, florists try to undercut their rivals and offer cheaper prices to attract fresh business.
Empowering customers

This is not so much of a benefit, but actually a drawback for businesses. With the Internet in particular, customers now know exactly how much a retailer is spending. This can affect margins and result in florists being under pressure with pricing.
Career path to become a florist
If you're interested in becoming a florist it's important to know the steps needed to make it on this career path. In this section you'll find everything you need on responsibilities, working hours, salary and qualifications to become a florist, in what's a very competitive industry.

Your main floristry responsibilities would be:
To help customers choose between various flowers and plants for a range of displays and arrangements
To create your own styles and designs of bouquets and arrangements, to give you an edge over competitors
To cultivate and prepare flowers for larger displays, such as exhibitions and flower shows
To provide qualified and experienced advice to customers on the best ways to look after their plants and flowers, whilst prolonging life expectancy
To be responsible for stock control and arranging delivery of purchases to customers nationwide, or even to the world
To sell gifts and accessories to complement the floral offerings. This could include vases, greetings cards and decorations.
When are a florist's working hours?
Whether you're working as a florist in a larger business or running your own company, working hours are likely to be similar. If there's a shop, you'll be working hours of 9am-5pm every day and could even be open at the weekends.
Busy times of the year include celebratory days, such as Valentine's Day, Mother's Day and over the Christmas period. There's also the likelihood of having online orders to deal with, whilst arranging the delivery of goods. You may also need to travel to wholesalers to pick up large orders.
What is the salary of a florist?
Junior florists can expect a salary in line with the national minimum wage, with details available on the Gov.co.uk website. With a few years' worth of experience, florists will earn between £16,000 and £25,000 each year.
Of course, self-employed florists can earn more depending on the size and location of their business.
What are the entry requirements to become a florist?
Florists often find their way into this profession by taking a junior role and learning 'on-the-job' as it were. During this time, junior florists could also be studying for a range of qualifications to improve their expertise and knowhow.
In particular, you should show a keen interest in floristry and present solid customer service skills. There are some relevant college courses as well, which include:
Level 1 Certificate in Introduction to Floristry
Level 1 Certificate in Practical Floristry Skills
Level 1/2 Award in Floral Design
Level 2 Certificate/Diploma in Floristry.
Starting your own floristry business
If you've been working as a florist for some time and feel you have the aptitude and experience to take your career to the next level, starting your own floristry business could be the way forward. As well as taking the information outlined in the above section, you'll need to decide on a suitable premises, how to structure staff and pitfalls to avoid.

Choosing the right premises
Of course, floral displays offer a visual appeal and for that reason you'll want a property that's close to the main shopping area. This will have a greater chance of attracting customers, but likely mean prices are typically higher.

New floristry businesses often start as a market stall or positioned near a busy commuter line, such as train stations. This will ensure a steady flow of customers and gives you the time to build up an income and afford a property lease.
If you do end up leasing a property, don't be tempted to opt for a large space. Many florists have a small shop area and most stock will be kept in sight. You simply need to ensure replenishing your stock as and when necessary, whilst maintaining the right temperature. If your business is selling online too, just bear in mind you'll probably need extra space to support this.
Managing staff for your business
Many floristry businesses are often family-owned or a one-man-band. If your business grows at an exponential rate though, you may well consider the idea of bringing on board extra staff to help with demand. Junior florists should receive minimum wage salaries, whilst more experienced professionals could receive upwards of £19,000. If you open multiple stores, managers will be required – and will earn around £25,000.
Start-up costs for a floristry business
As with any business, start-up costs are going to vary substantially. As such, you could spend anywhere between £15,000 and £100,000. For this reason, it's worth spending significant time saving up and developing your business, rather than rushing key decisions.
If you don't have a shop to lease, costs won't rack up as much. However, you will need to factor transport for deliveries into your projections, as well as an accountant if required.
Tips for starting your floristry business
Starting your own business is a brave move, but one you could be richly rewarded in – both financially and through enjoyment. If you're embarking on your own floristry business, keep the following tips in mind:
Be ready for seasonal trends. You'll have extremely busy times of the year, including Valentine's Day and Mother's Day. Meanwhile, also expect to have low points and factor these into your projections.
Make the most of key events and dates in the calendar and ensure these are big profit drivers. Using foliage, you can create a great arrangement without spending the same amount of money too.
ry to focus on doubling your stock prices and even have a niche or speciality – such as orchids, potted plants or Fairtrade flowers. This will push your presence as a knowledgeable seller.
Make sure to spend time designing and creating your website. Most of your customers will be online, so it's crucial you are too.
Keep lasting stock such as potted plants, to sell alongside perishables. This will ensure your stock levels are consistent.
Enjoy strong relationships with couriers to benefit from better pricing for transportation and delivery of orders.