How to make a spring wreath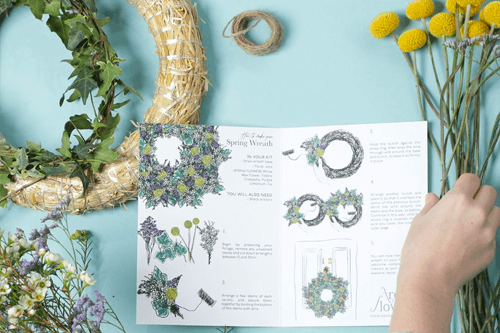 This gorgeous Spring wreath kit includes everything you need to create a beautiful door or wall wreath decoration. Get closer to nature and enjoy the practice of wreath making with stunning ethically sourced, seasonal flowers and a handy how-to leaflet to guide you.
This kit makes a perfect treat for yourself, or similarly, a wonderful Spring or Easter gift for friends and family that can be admired for weeks to come.
What you will need:
straw wreath base
wax flowers
limonium
craspedia
ivy
floral wire
twine
How to make a herbal wreath step by step:
Begin by preparing your foliage and flowers. Take your wax flower, limonium, craspedia and ivy and cut into lengths of around 15cm.


Make a posy using wax flower as your main flower, with pieces of limonium, and ivy scattered through and behind, and one or two craspedia at the front.


Tie the stems of your posy together with the floral wire but don't cut the wire.


Hold the posy against the straw ring and then wrap the wire around the base and the posy a few time to attach them together. Try not to trap any leaves under the wire or damage the stems. Again do not cut the wire.


Make another posy and place it so it overlaps the stems of the previous one. Angle your posies slightly so that while one posy faces slightly inward, the next one faces slightly out. Wind the wire around the stems of this posy as before to secure it on the wreath base.


Continue in this way until you are almost back at the beginning, making sure you have covered both the inside and the outside edge.


When you come to the last posy, lift up your first one and carefully slot your final posy underneath. Then wrap the wire around the stems of your last posy, being very careful not to trap any flowers underneath.


Turn the wreath around so the base is facing you, and now cut the wire, leaving enough wire spare to form a hanging hook. Guide the end of the wire under an existing loop to help secure it and then twist it around a few times to create your hanging loop.


You can either hang your wreath directly from your wire loop, or cut a length of twine, feed it through the loop and tie the ends together.


Your Easter wreath is now ready to hang on your front door or inside your house as a gorgeous seasonal decoration that celebrates the spring.