How to dry hydrangeas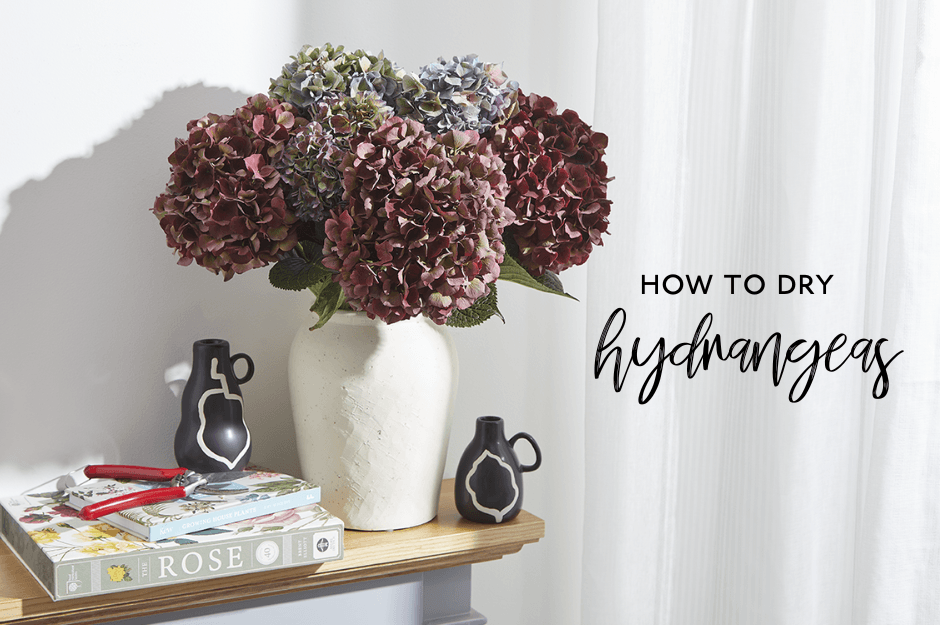 Hydrangeas are one of the late summer darlings of British flowers. Their large heads of flowers look like clusters of butterflies ready to spring in to the air, making them look both bombastic and delicate in equal measure.
These gorgeous blooms are full of versatility thanks to the ease at which they can be dried. Our plant expert, Lark Hanham, has put together this quick and easy guide to drying yours.
The hydrangea. To gift one means sincerity and a deeply felt emotion. Whether it's a growing plant gift for your mum on Mother's Day or a bouquet for someone special to you, it symbolises a heartfelt gesture. If you've been keeping your eye out and savvily managing your account, you'd have recently enjoyed several voluptuous hydrangea blooms in your recent Arena Flowers subscription.
With sustainability at the core of everything we do, we thought we'd teach you how you can continue to enjoy these magnificent blooms indefinitely, by drying them.
Drying flowers can be done several ways, but to keep it simple we suggest  following this guide if it's your first time.
The colour you can achieve from drying your hydrangea bloom depends on the initial flower colour. A baby pink flower will soften to a subtle light pink hue and a deep blue will transform to a more muted, less vivid tone.
A. Using flowers from your garden
1. Late summer and early autumn is a great time to gather your bounty. September's great as you will have enjoyed the blooms for a few weeks already.
2. When they start to fade, this is when you grab your trusted pruners and cut them for drying.
TIP! Bear in mind, if you cut the stem too long, you could impact the next year's flowers, as most hydrangeas flower off last year's growth. We recommend keeping your stem length to a maximum of 40cm.
B. Using cut flowers from a bouquet
1. If you are lucky enough to have been given a bouquet with hydrangeas (or treated yourself to some), the process is simple. Enjoy the flowers as you would normally, removing all the foliage and using a large vase with a heavy base to avoid toppling. Hydrangeas, once cut and in the optimum conditions, can last well over 10 days in the vase.
2. As they begin to fade, rather than composting them, let the blooms stand untouched in the vase for a few weeks. The water will evaporate, or you can speed up the process by pouring it away.
TIP! Ensure the flowers are away from any direct sunlight to preserve the dried flowers' colour. To help with the drying process, keep them in a dry room of the house, so avoid the kitchen or bathroom if possible.
3. Once the flowers have dried sufficiently, they will be lighter in weight and when you touch the flowers, will sound crisp and feel crunchy.
4. Arrange your dried hydrangeas with other dried flower stems for an informal relaxed bouquet (roses and Eryngiums are a great option). Or, go bold by admiring these bodacious blooms on their own.